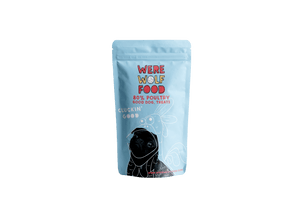 Everyone needs a treat, especially your dog! These super tasty poultry treats will be the only thing your dog will want to eat.
Great for use as training rewards. Suitable for puppies and dogs of all ages. Cats love them too!!
FREE DELIVERY: Only available as a subscription when added to an existing order or when purchased x5 bags in an order. 
No added grain. Contains freshly prepared poultry. Highly digestible.
Whats Inside
80% Fresh Poultry (33% Chicken, 29% Duck, 18% Turkey), Potato, Chicken Gravy
No additional additives or preservatives.