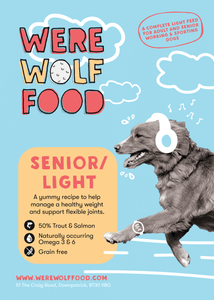 They say you can't teach an old dog new tricks. But you CAN make sure they're getting a meal tailored to their needs. 
An ideal recipe for senior dogs contains 50% Trout & Salmon, naturally occurring omegas.
And for dogs who need to watch their waistline it's a perfect choice for a lighter bite.
What's inside: Trout and Salmon 50% (including Freshly Prepared Trout 30% , Dried Salmon 110%, Freshly Prepared Salmon 4%, Salmon Oil 3% & Salmon Gravy 2%), Sweet Potato (24%), Potato, Peas(6%), SUgar Beet Pulp, Pea Protein, Linseed, Potato Protein,  Minerals, Vitamins, Asparagus (0.3%), Glucosamine (170 mg/kg), Methylsulfonylmethane (170 mg/kg), Chrondroitin Sulphate (125 mg/kg), FOS (96 mg/kg), MOS (24 mg/kg) 

 Nutritional Additives per Kg 
Vitamins: Vitamin A 15,000 IU / Vitamin D3 2,000 IU / Vitamin E 95IU / ProVitamin: L-Carnitine 480 mg.
Trace Elements: Zinc  50 mg, Iron 50 mg, Manganese 35mg, Copper 5 mg,  Iodine 1 mg 
NO ARTIFICIAL PRESERVATIVES OR COLOURS, GRAIN FREE,  HYPOALLERGENIC & VET APPROVED.